26 September Knaresborough Mixed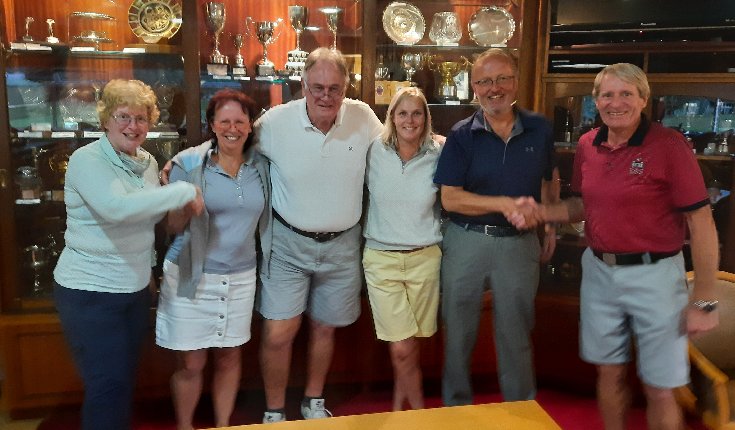 Winning  team on 104 points, Vicki Oliver and Richard James (Barnard Castle) and Lesley and Ron Benson (Knaresborgh).
Ron Benson also achieved a hole in one on the eighth hole.
17 – 24 September
Tuesday 21st September
Ladies Captain Charity Competition
1st Shirley Smith 40pts
2nd Annie Neville 38pts
3rd Janet Graham 37pts
Well done to all ladies who played today.
Sunday 20th September the ladies played the Musto Final.
The Musto final is a competition for ladies who have been first, second or third in medals throughout the season.
The winner was Mel Wade nett 67 (better back 9) beating Sheila Stewart with nett 67, third was Barbara Yorke nett 68. Well done to all finalist who took part today.
Tuesday 14th September
Ladies played the Golf Foundation & Medal No14.
Some ladies persevered through heavy rain to complete their rounds.
1. Caroline (Caz) Smith nett 70
2. Dianne Wilkinson nett 71
3. Margaret Melrose nett 72
Well done to the ladies who took part.